Danfoss CO2 training unit to grace ATMO America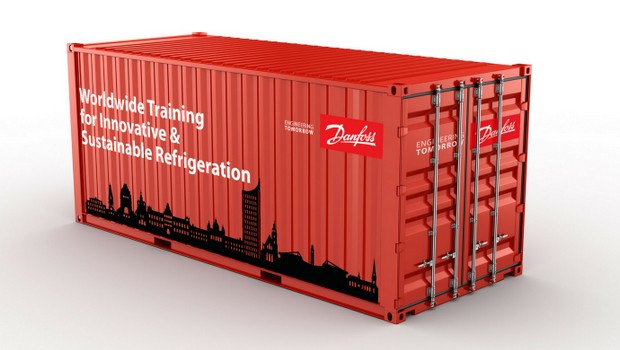 The ATMOsphere America conference in San Diego will see Danfoss bring its mobile training unit for CO2 applications to the western United States for the first time.
To improve understanding of natural refrigerant systems, Danfoss will deploy its mobile training unit for CO2 applications to the western United States for the first time this summer. Its first stop is the ATMOsphere America conference in San Diego on 5-7 June. Attendees are welcome to visit the training unit throughout the conference, during which a longer, in-depth training session will also be held.
Danfoss will hold 'open house' sessions in the container classroom to showcase equipment and components for CO2 solutions. Packed with interactive learning modules, the company's experts will share their in-depth knowledge of this natural refrigerant's properties, and outline opportunities and challenges surrounding its use.
The CO2 solutions presented in the mobile training unit range from simple gas-bypass systems to more complex parallel compression solutions with or without heat reclaim. The training unit introduces the AHR Expo Innovation Award-winning ejector technology, which industry experts recognise as key to the evolution of transcritical CO2 refrigeration. Ejectors can enhance system efficiency by up to 20% on the hottest days of the year, helping to overcome performance challenges that had previously dogged transcritical CO2 systems in warmer climates.
The training unit helps to close the training gap among technicians as CO2 refrigeration system become more popular as climate-friendly alternatives to HFCs worldwide.
As technologies for implementing CO2 refrigeration continue to evolve, the Danfoss mobile training unit will be constantly updated with new components, know-how, and learning modules to reflect these changes.
The unit will be making stops in the Pacific and Mountain regions as it travels the United States to support the industry. Its west coast stops are ATMOsphere America Conference in San Diego, California, June 5-7; Source Refrigeration & HVAC Training Center in Anaheim, California, June 14-29; and DC Engineering in Meridian, Idaho, July 10-20.