Daikin first with R32 domestic heat pump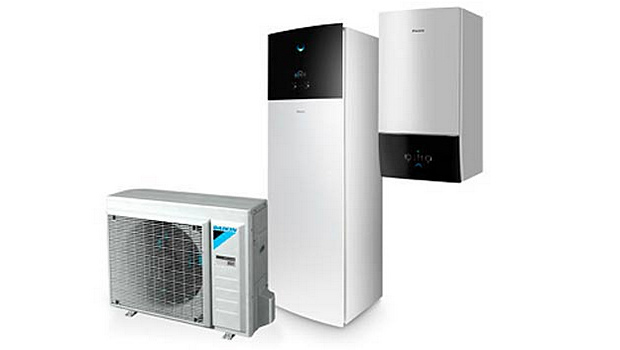 A pioneer of R32 in air conditioning systems, Daikin will be the first to introduce the lower GWP refrigerant in air-to-water domestic heat pumps.
The development of a third generation Daikin Altherma was first announced last year. The Daikin Altherma 3 has now begun to be rolled out across Europe as part of the air conditioning manufacturer's Bluevolution range of low environmental impact products using R32. It will be offered in 4, 6 and 8kW sizes.
Delivering temperatures up to 65°C at high efficiency, the R32 Daikin Altherma 3 is said to be suitable for use with both underfloor heating systems and radiators.
With seasonal efficiencies up to A+++, the Altherma 3 boasts heating efficiencies of up to a COP of 5.1 (at 7°C/35°C) and domestic hot water efficiencies up to a COP of 3.3.
The Daikin Altherma 3 indoor being made available comprise a floor standing unit with integrated domestic hot water tank and a wall-mounted unit which can be combined with a separate domestic hot water tank.
The new Altherma has already been launched in several European countries. A UK launch is expected next month but Daikin UK has so far not released details of the range and specification that will be available.