Commercial kitchen uses R1234ze and R455A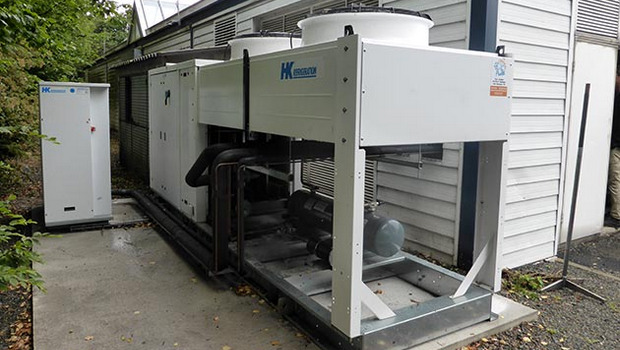 A municipal kitchen in Saint-Brieuc, Brittany, has been upgraded with a refrigeration system using a combination of the HFO R1234ze and R455A, a lower GWP alternative to R404A.
Established in 1989, the Cuisine Centrale de Saint-Brieuc was designed to deliver up to 3,000 meals per day. The kitchen's main mission is to provide meals for public primary school canteens in the town (around 2,500 meals/day) using a cook-freeze method. Over the years, the Cuisine Centrale added home delivery of meals to the elderly and some canteens for adults. The kitchen then diversified by establishing hot food delivery for meals at childcare centres, which require special procedures.
Meals are cooked and put in trays, then cooled to 7°C before being stored in a cold room where they are kept until they are distributed no more than three days later. The hot delivery system makes it possible to adapt to the needs of children by cooking and delivering specific meals with varying textures every morning.
The original kitchen refrigeration systems had become outdated and difficult to keep in service, requiring several fluorine refrigerants for separate pieces of equipment.
"The change to a comprehensive refrigeration unit for cooling needs was a clear choice and, in order to save energy, it was essential that we put in place a process to recover heat to produce hot water and heat the building," commented Arnaud Loriferne, the council's energy manager.
An energy and refrigeration usage assessment was carried out by CETIA Ingénierie. An above-zero refrigeration unit using R134a and a sub-zero unit using R407F were initially chosen to cover all needs. Total budget was €80,000.
Refrigeration contractor Central Froid stood out with their environmental and technical approach, using the latest HFO refrigerants with lower GWPs, and was awarded the project.
Central Froid specialises in commercial and industrial refrigeration with four locations in northern Brittany. In 2016, Central Froid founded IGC 22, which specialises in commercial kitchens.
Installation began in March this year with installation of an HK Refrigeration sub-zero refrigeration unit with a Copeland scroll compressor, adapted by Central Froid to work with R455A.
Sold by Honeywell as Solstice L40X, R455A is a blend of 75.5% HFO R1234yf, 21.5% R32 and 3% CO2. It is an A2L gas with a low GWP of 146. Capacity is said to match that of R404A and it has the same or better efficiency.
Central Froid relied on technical support from refrigerant supplier Climalife in the process of getting approval from compressor and part manufacturers for this project. The refrigeration unit cools the sub-zero cold room to -20°C for frozen products. The project continued in April with installation of the above-zero refrigeration unit, which required special scheduling to avoid disruption to the kitchen's work.
"Scheduling the switch over two days, getting one cold room online at a time, allowed us to avoid the storage problem that we would have had with other installers, who wanted to switch over four cold rooms simultaneously. The special schedule was an important advantage for us," said service manager Jean-Luc Pennec.
Installation description
The HK Refrigeration above-zero refrigeration unit was modified to use R1234ze. It employs two Bitzer 4PES-12Y compressors and a Danfoss AK-PC 551 capacity controller, with speed and floating HP control. Equipped with variable speed drives, the unit produces the cooling needed for the two 10°C cold preparation areas and seven cold rooms, which have temperatures between +2°C and +6°C. These cold rooms are for storing food supplies, daily production, fresh meat, deli meat, fruits, vegetables, dairy products, and cooked dishes.
The two units are installed outside, near the plant room that held the old refrigeration units. The old units were dismantled and the freed-up space was used to install the Boostherm heat recovery system that relies on the refrigeration units' condensers. The recovered energy is used to pre-heat hot water to 55°C, with 45°C water flowing out to three 1,500 litre tanks. The hot water that goes out for usage is heated to 60°C. The building's electric resistance heating system was replaced with a France Air AHU using heat recovery from the above-zero refrigeration unit charged with R1234ze.
Energy savings are expected to total in the region of €6,800 per year.