Colmac Coil publishes 4th ammonia handbook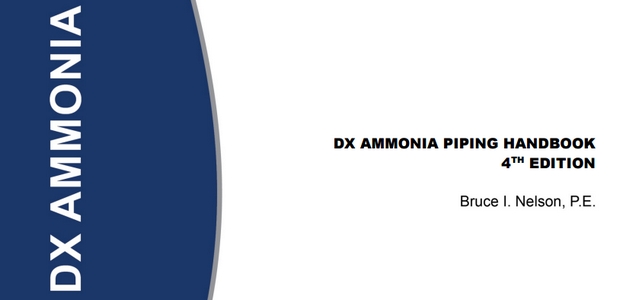 The Ammonia Piping Handbook serves as a guide for the design and implementation of Colmac Coil's DX ammonia refrigeration system.
The 4th edition of Colmac Coil's handbook serves as an updated guide for the design and implementation of their low-charge, direct expansion (DX) ammonia refrigeration system.
The system's evaporator charge is up to 30 or 50 times lower than in traditional pumped, bottom feed-flooded alternatives, improving safety.
The US company is specifically aiming to address end users' safety fears concerning ammonia by minimising the risk of leaks.
The reduction in ammonia charge may also help compliance with regulations governing the handling of ammonia in the United States, and potentially reduce insurance premiums.
The fourth edition includes updated and expanded system configuration descriptions alongside well as new piping diagrams that help users get to grips with how they can employ this ammonia system design.
The handbook also covers different types of compressors that can be used with this system – including screw and reciprocating compressors.
An innovative low-charge NH3 system
Colmac Coil's low-charge DX ammonia refrigeration systems operate at temperatures of +10°C to -45.5°C (+50°F to -50°F).
It can be difficult to provide high levels of cooling capacity at such low temperatures. The challenge can be overcome by removing water from the ammonia refrigerant, separating the liquid and vapor phases of the refrigeration cycle, and developing the Colmac Tank Distributor – a new refrigerant distribution technology that improves the efficiency of low-temperature ammonia systems.
The bottom feed coil circulates liquid ammonia at the lowest point in the coil circuit, causing the ammonia to flow upwards and 'percolate' through the coil in ascending passes to the outlet at the top of the circuit, in combination with a large coil internal volume.
The combination of refrigerant feed, circuiting, and tube diameter increases the evaporator's cooling power but keeps the refrigerant charge low.
About Colmac Coil Manufacturing Inc.
Founded in 1971, the company has grown to become one of the world's leading manufacturers of refrigeration evaporators and liquid air coolers, dry coolers, air-cooled condensers, and heat pipe air-to-air heat exchangers for the commercial and industrial heat transfer markets. Located in Colville, Washington, USA, it has manufacturing facilities in Colville and Paxton, Illinois.

Click here to read Colmac Coil's DX Ammonia Piping Handbook 4th Edition.