CO2 refrigeration key to Emerson research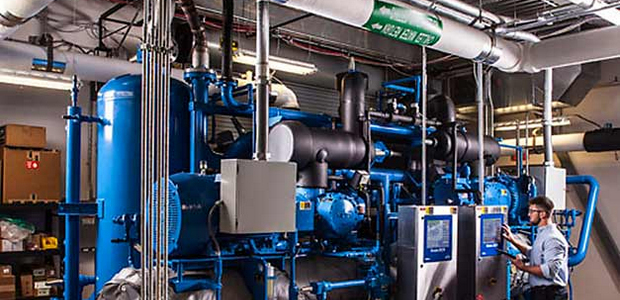 A CO2 industrial refrigeration system is key to the research and development work being carried out by Emerson at its Helix Innovation Center.
The facility opened at the end of last year in Dayton, Ohio, features full-scale, simulated environments, including a working commercial kitchen, a two-story residential home, a grocery store, a data centre and the whole facility as a commercial building. Teams are using the facility to generate new ideas and then test them under real-world conditions.
"Our industrial refrigeration system at The Helix is unique in that it both supports the overall innovation work of the facility and is itself a sandbox like the other modules for testing, learning and innovation," said Rajan Rajendran, vice president, system innovation centre and sustainability, Emerson's Commercial & Residential Solutions. "Emerson is leveraging the results of testing to develop larger CO2 cascade systems to serve customers in the cold storage and food manufacturing and other industries that require low temperatures and prefer natural refrigerants for their processes."
The Helix Innovation Center's modules not only have multiple refrigeration and/or HVAC systems installed, they also feature condensing units located in environmental chambers to enable ambient temperature control from -34°C to 54°C.
To cool these chambers, plus the one surrounding the 186m2 home, Emerson needed 50 tons of low temp cooling capacity. Emerson created a CO2 subcritical cascade system working with an Emerson industrial R134a medium temperature chiller, which resulted in a complete industrial refrigeration package. This system, which is now also the industrial refrigeration module at The Helix, allows Emerson to leverage a testing environment with real operating conditions and make final tweaks backed by proven results before going to market.
"To create the new system, the Emerson team started with its existing 400 series Vilter reciprocating compressor and updated the design to withstand the higher pressures of the CO2 system. The compressor features capacity modulation via a combination of cylinder unloading and speed ranging from 700 to 1800rpm," said Wayne Wehber, vice president business development, Vilter, Emerson's Commercial & Residential Solutions.
The result is an integrated system on a common skid with a pair of two cylinder compressors working in parallel to provide 50 tons at -35°F (-37°C) suction and +25°F (-4°C) condensing.
Emerson plans for The Helix to be a global hub of industry education. In addition to the modules, the facility includes three learning labs and the company plans to host industry meetings and hold forums for HVACR professionals on-site.