CO2 use increasing among cold stores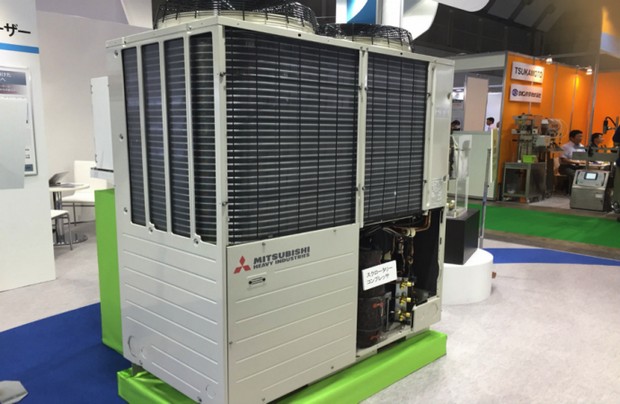 Mitsubishi Heavy Industries' new HCCV1001 CO2 condensing unit is on display for the first time at the International Food Machinery & Technology Exhibition (FOOMA Japan 2017) in Tokyo, Japan.
With the market for CO2 condensing units becoming increasingly competitive, Mitsubishi Heavy Industries Thermal Systems Co. Ltd (MHI) told at the FOOMA tradeshow in Tokyo yesterday that its newly released HCCV1001 unit had already exceeded sales expectations.
The new 10 HP CO2 condensing unit is on display for the first time at this year's International Food Machinery & Technology Exhibition (FOOMA Japan 2017), taking place at the Tokyo Big Sight from 13-16 June. It has an operating temperature range of -45°C to -5°C.
"We will have several HCCV1001 CO2 condensing units installed this year in Japan," said Takeo Koiso, sales department manager for MHI.
The unit began selling in April and is targeted at cold store operators and food manufacturers.
Demand over just the past two months, in fact, has been so strong that it has prompted the company to already begin developing a 20 HP version.
"We are now planning to launch a 20 HP unit in September 2018," remarked Koiso.
Driving the market for industrial CO2 adoption, according to Koiso, are government subsidies and the leadership of the sector's largest companies.
Japan subsidies accelerating growth
Koiso explained that subsidies from the Japanese government are playing a large part in driving adoption and increasing awareness of HFC-free refrigeration among the cold store industry in Japan.
The launch of the HCCV1001 CO2 condensing unit was timed to coincide with the opening of the first round of applications for Japan's Ministry of Environment subsidy for natural refrigerant systems, which ran from April through May of this year.
The subsidy is available for cold store operators who wish to install natural refrigerant systems and, according to Koiso, the number of applicants exceeded the maximum.
Additionally, Koiso commented on the fact that the largest companies are taking the lead with adopting natural refrigerant solutions, such as the HCV1001, for their cold store businesses, and the rest of the industry is following suit.
"The awareness and demand among the cold storage industry for HFC-free products is increasing, mainly due to the big name companies taking the lead," remarked Koiso.
The first HCCV1001 installation is being planned for Yokohama Reito, one of the largest refrigerated warehouse operators in Japan.
MHI is offering its NH3/CO2 unit together with the HCCV1001 as a package for facilities where both a large-scale solution and a smaller scale solution are required.
Yokohama Reito, whose refrigerated warehouses process fresh seafood, is one of these companies. They have both a large storage area which requires a larger refrigeration capacity, as well as a smaller attached warehouse, which requires less capacity and involves some human labor. MHI's package is an ideal solution for this type of application.
Another company is moving forward with an installation despite not having received the subsidy, Koiso added, without naming the company specifically.
Koiso was very optimistic about displaying the new condensing unit at the FOOMA show this year.
"We are excited to have sold so many units in a short period of time and we are seeing a lot of interest here at FOOMA," he said.
Going forward, the company will continue to target food manufacturers who use cold stores.
The company is also considering entering the increasingly competitive commercial CO2 refrigeration market for supermarkets and convenience stores in Japan, where it will compete with established players such as Panasonic and Sanden.
About the HCCV1001 CO2 condensing unit
The 10 horsepower unit uses MHI's patented two-stage scroll-rotary compressor technology, with scroll on the high side and rotary on the low side of compression. The two stage scroll-rotary compressor with mid-pressure gas injection is the world's first such type and it is the same compressor used in MHI's already successful CO2 commercial heat pump water heater 'Q-Ton'.