CO2 trending at China Refrigeration 2017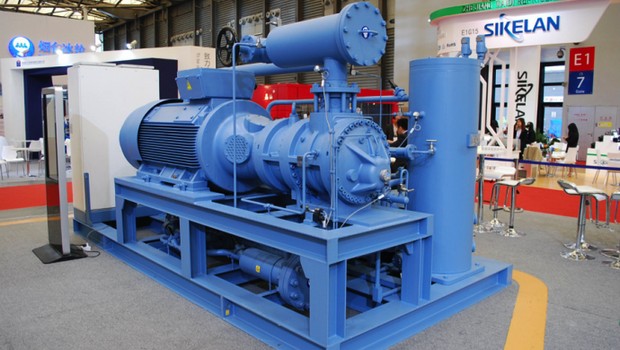 A variety of CO2-based HVAC&R solutions including heat pumps, compressors and condensing units, from both domestic and international suppliers, were on display at China Refrigeration 2017.
In a sign of the growing popularity of natural refrigerants in China, Danfoss – whose multi-ejector was selected as one of the show's 'Innovative Products' of 2017, was just one of an impressive number of companies showcasing CO2-based solutions at China Refrigeration this year.
"We are extremely encouraged by the growth of CO2 use in China over the past couple years, and we are seeing a lot of interest in our CO 2 solutions from Chinese retailers," Jackie Xiao, marketing communications manager for Danfoss China, said at the Shanghai New International Expo Centre.
CO2 heat pumps on the rise
Growing interest in CO2 heat pumps was certainly evident at the show this year.
"We do see the natural refrigerant trend coming strongly in China for transcritical CO2 in heat pump applications. We are receiving more and more inquiries and are currently in the middle of several discussions," Bill Feng, sales and marketing manager for Bitzer China, said.
The German compressor manufacturer was displaying its new 50HP 6CTEU-50 CO2 transcritical compressor.
Italian compressor manufacturer Dorin was displaying a semi-hermetic, six-cylinder CO2 transcritical compressor. "It is the largest available in the market and specifically designed for large heat pump ranges and space heating," said Massimo Casini, international sales manager, Dorin.
"We are convinced that CO2 will be the next step for the market in China, especially for heat pump applications and space heating and we are ready to support the market as much as possible."
China-based manufacturer Fujian Snowman was exhibiting its SRH NH3/CO2 High Pressure Screw Compressor for heat pump applications.
"In China, we are seeing demand for this type of heat pump increasing rapidly and we are ready to supply it," said Rüdiger Rudischhauser, vice-president sales international, Fujian Snowman.
Leading Chinese heat-pump manufacturer Dongqi Science & Technology Co., Ltd. displayed a CO2 air-source heat pump for hot water. The product can be used to supply hot water for commercial and residential buildings.
Mitsubishi Heavy Industries, for the first time, displayed its Q-ton Air-to-Water CO2 heat pump. An MHI representative said that they "expect to sell 100 units" in China this year.
Panasonic exhibits CO2 condensing unit and compressors
Indicating an increased interest in internationally developed CO 2 solutions, large Chinese manufacturer Bing Shan Group had Panasonic's 10HP CO2 condensing unit on display, along with Panasonic's 33F and 15F twin rotary CO2 compressors.
Panasonic, who is the market leader in Japan for CO2 condensing units, is now seeking to enter the market in China, as retailers there seek a wider variety of solutions for commercial applications such as supermarkets and convenience stores.
CO2 solutions win innovation awards
In addition to Danfoss' multi-ejector, several companies won China Refrigeration's Innovative Product of 2017 award for their CO2 -based solutions.
Large Chinese industrial refrigeration system supplier Jinan Dasen Refrigeration Equipment Co., Ltd. exhibited its ammonia/CO2 cascade refrigeration system, which was selected as one of the exhibition's 'Innovative Products' of 2017.
Also selected was Chinese domestic refrigeration system supplier Yantai Moon's ammonia/CO2 cascade system. Yantai Moon is the largest domestic supplier of industrial refrigeration systems in China, holding more than 60% of the market.
Chinese valve manufacturer Sanhua Group exhibited its CBVT series CO2 ball valve, which was also selected as one of China Refrigeration's 'Innovative Products" of 2017.