'Click & Collect' food retail systems cooled with HCs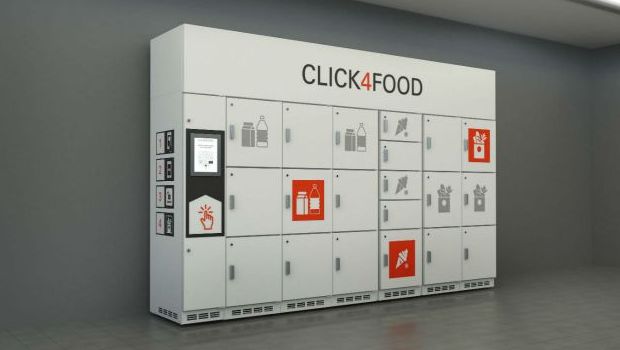 Retailers are beginning to offer hydrocarbon-cooled pick-up stations for food purchased online.
As consumers become increasingly 'digitised', 'Click & Collect' services look set to become more commonplace across Europe – with supermarkets leading the way. Manufacturers are beginning to tune into this trend, with German firm Viessmann and Austrian company Hauser presenting innovative cooling systems for this application at EuroShop.
'Click & Collect' allows supermarket customers to order their shopping online and easily collect it from an external pick-up station – such as a train station, supermarket car park, petrol station, bus stop or airport.
Viessmann presented its 'Click4Food' solution using propane and isobutane for cooling, while goods kept at the outside ambient temperature use no refrigeration at all.
The company's goal is to develop the 'Click & Collect' concept together with its retail customers, expanding sales of refrigerated goods beyond the tradiitional grocery business, according to Mikko Blomqvist, product manager at Viessmann.
So far they have had over 10 installations in Sweden and Finland.
"Most of these have been trials, so we can see where the [systems] should be located and how they work in practice", Blomqvist explains.
The company is not restricting itself to the Nordic market. "We hope to start installing them in all markets soon", he said.
Hauser opts for just isobutane
Austria-based Hauser is opting for a slightly different concept with isobutane as the only refrigerant. The system is organised in rows of three going down, with each compartment using a different compressor and refrigeration system.
Each row is also at a different temperature: one for frozen produce, one for fridges, and one for ambient goods.
Paul Broadhurst of Hauser says the refrigerated lockers will be installed "mainly in supermarket parking lots".
So far they have had one installation in a retail chain in Vienna, Austria.
The system works as follows: the customer places an order online, after which they receive a QR Code which they take to their chosen pick-up station.
"There they can the QR code, the locker pops open, and then when they close one, another pops open if they ordered food at another temperature," Broadhurst explained.
Viessmann's system differs here again. With the 'Click4Food' system, customers receive a code via SMS to enter into the system. The code grants access to lockers containing the goods.
Other cooling solutions on show were less integrated with service delivery. For example, there were lockers with keys which customers can use to store their goods while they do something else.