Is China moving to R290 for air-conditioning?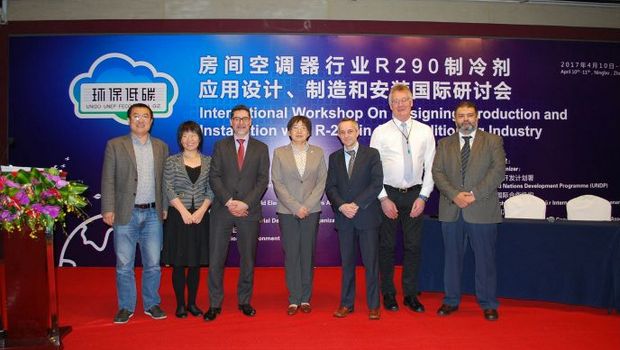 At an international workshop on R290 air-conditioning this month, the Chinese Household Electrical Appliances Association and the Chinese Ministry of Environmental Protection (MEP/FECO) outlined their experiences with propane to an audience from across China, the Middle East and Vietnam.
As China proceeds with its phase out of R22, a Chinese Household Electrical Appliances Association (CHEAA) representative told the 'International Workshop on Designing, Production and Installation with R290 in Air-Conditioning Industry' in Ningbo, China on 9-10 April how propane (R290) was selected as a suitable replacement.
Developing countries must cut 35% of their use of the HCFC R22 by 2020 and phase it out for most uses by 2030 under the Montreal Protocol. New requirements under the Kigali Agreement mean HFCs will eventually be phased down under the Montreal Protocol too.
Peng Min of CHEAA told the audience at the event – organised by the Chinese government, UNIDO, UNEP and GIZ Proklima (a German NGO) – that the primary aim was "ensuring the long-term sustainability of the alternative technology adopted".
"It is not good for the industry […] if we change the refrigerant frequently," Min told around 160 stakeholders from the Middle East, Gulf countries and Vietnam, and Japanese and American companies.
Min believes propane will solve the problem. In some production lines that have already been converted to R290, one knock-on benefit is that "the capacity and [Energy Efficiency Ratio] EER of R290 is better than other refrigerants [in] the high ambient region".
Addressing safety concerns
Propane is a flammable refrigerant, bringing with it a certain degree of safety concern. A "risk assessment on using R290 was developed by the [Chinese Tianjin] fire fighting research institute," Min said.
They conducted an extensive risk assessment and concluded that the risk levels in case of an electrical shock, lightning or a traffic accident were acceptable. An added benefit for CHEAA was the low price of the refrigerant and its superior efficiency.
China produces 100 million air-conditioning units per year, 40% of which are exported to other countries like the US and Europe.
Kigali, the US's Significant New Alternatives Policy (SNAP) programme and the EU's F-Gas Regulation confirmed that the "the future for HFCs refrigerants with high GWP is not good," Min said.
50 to 100,000 split units in 2017
Zhong Zhifeng, vice-chief of Division III in FECO – an agency attached to China's Ministry of Environmental Protection – said that it expects local manufacturers to deliver 100,000 R290-based split units this year. Currently this represents just 0.1% of China's output but is nonetheless a step in the right direction.
Zhifeng hopes China's progress will encourage other countries to think R290. "The initial thought [behind the workshop] is we want to introduce R290 [to our] Middle East friends and Vietnam. We want to exchange information between the room air-conditioning sectors and also between different sectors like freezing and heat exchange," he said.
Key manufacturers like Midea, Haier and AUX were also in attendance at the workshop. They exhibited their R290 split-type and movable air-conditioning models.
Barriers remain
To achieve this conversion, GIZ Proklima believes standards will have to be substantially changed.
GIZ's Dr. Daniel Colbourne, who sits on the International Electrotechnical Committee (IEC), gave a brief overview of the revision of hydrocarbon standards that is currently taking place in the International Electrotechnical Commission.
Standards from the IEC, a worldwide body that proposes rules governing how to use electrical, electronic and related technologies, influence the development of the market by providing manufacturers and customers with guidelines as to what is safe to use and buy.
Colbourne confirmed, "activities within [working groups] under commercial refrigeration and air-conditioner standards have developed improved charge size limits".
Current charge limits are at 150g for most applications, which restricts their uses The new limit is expected to change from 150g to 500g for commercial refrigeration cabinets; this could shift the market towards bigger, more efficient hydrocarbon cabinets once it is adopted by the full IEC.