Carrier Commercial Refrigeration helps customers reduce costs amid energy crisis in Europe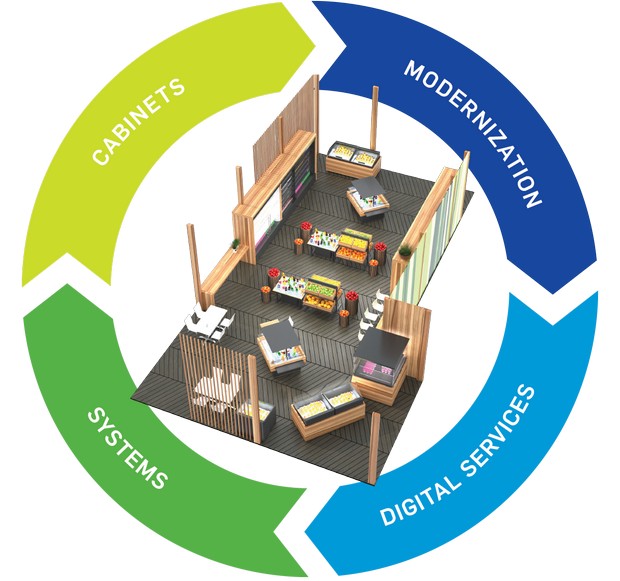 The Carrier Energy Optimization Program: Delivering Sustainable Savings offers a broad portfolio of EcoDesign-compliant products and solutions to provide businesses – from small commercial applications to large industrial installations – access to an array of modern energy and cost-efficient technology. As part of this program, Carrier will offer on-site energy evaluations during which our team will provide custom recommendations on how to reduce energy consumption at the customer site.
Carrier offers a wide range of comprehensive energy-saving solutions for previously installed equipment that combined can offer energy savings up to 40%* per store. Customers can choose from energy-efficient cabinets, systems and modernization products for the existing installed base. Cabinets can also be equipped with advanced energy-saving technologies, such as the BREEZTecTM air circulation system, inverter technology and propane systems. Carrier's systems, such as CO2 racks, provide innovative ejector technology, which increases the efficiency of the refrigeration system. Carrier's modernization portfolio also offers innovative solutions, such as glass door retrofits, new generation LED and shelf-edge technology for open cabinets.
Customers also can access a range of new and upcoming products to maximize their energy-saving potential. For example, the versatile MiniCO2OL® Compact offers efficient refrigeration capacities of up to 190 kilowatts (kW) for medium temperature applications and 56.5 kW for low temperature use, along with the ability to recycle heat generated during the refrigeration process to heat tap water and/or central heating.
Customers also now have the option to acquire new system or modernization solutions through leasing options proposed by Carrier's finance partner. With these financing solutions, customers can gain access to Carrier's energy-saving technology as quickly as possible.
The latest energy-efficiency program aligns with Carrier's 2030 Environmental, Social and Governance goal to reduce its customers' carbon footprint by more than one gigaton.
Carrier's latest products are part of its Healthy, Safe, Sustainable and Intelligent Cold Chain Program, which provides fresh foods and medications to people around the world and ensures the safe storage and transport of critical vaccines through advanced connectivity and visibility.