Carlyle: 'Ammonia way more efficient' than alternatives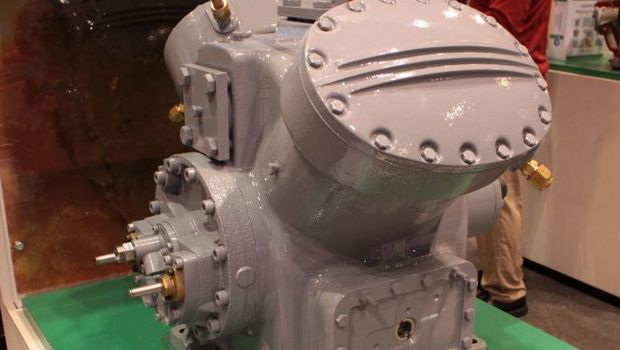 During the AHR Expo last week, the compressor manufacturer explained why ammonia can be the perfect refrigerant for big systems.
Carlyle, a UTC Climate Technologies brand (part of the Carrier group), told this website at AHR Expo in Chicago, IL. last week why ammonia is more efficient for bigger systems.
Chris Dahar, application engineer at Carlyle, told this website that ammonia compares favourably with HFCs in large-scale cooling applications. "You can lose capacity with other low-GWP refrigerants," said Dahar, warning that discharge rates tend to be higher there too. "Ammonia is way more efficient. [Compared] to R404A the energy content can be six times higher."
Much of this has to do with the pressure that ammonia works under as a refrigerant. "It has 10 times less pressure," Dahar said.
This has an impact on the amount of refrigerant used in a refrigeration system per hour. Ammonia would use significantly less refrigerant, meaning lower cost for end users, "especially if you consider ammonia is cheap," he added.
Dahar also draws attention to the environmental benefits. "Anyone in the refrigerant business now knows you need a refrigerant strategy," he noted.
As for HFOs, Dahar says "A2Ls are flammable and very expensive".
The company has also been working with CO2 transcritical compressors for some time, making them for Carrier 10 years ago. "We designed them for Carrier as they wanted to be a market leader," he boasted.
Now he thinks U.S. retailers are more open to installing CO2 transcritical in supermarkets. "We really need higher-skilled technicians to work with the high pressures of CO2," he said.