Canadian freezer maker switches to propane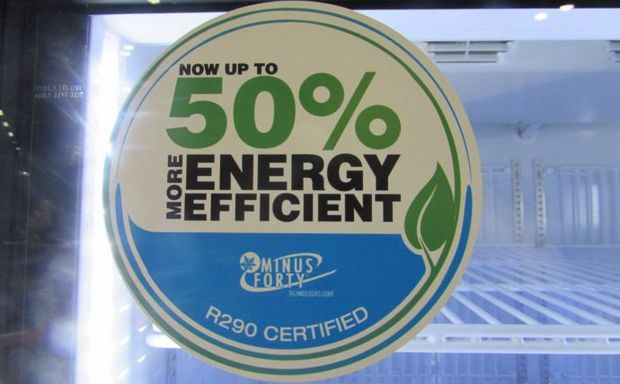 Canada-based Minus Forty Technologies Corp. is staying ahead of the regulatory curve by converting its entire product line to propane.
To meet environmental sustainability targets and stay ahead of regulatory change, Minus Forty Technologies Corp., a Georgetown, Ontario-based manufacturer of freezer and refrigerated cabinets, has already converted all but one of the 36 products in its portfolio to natural refrigerant propane (R290).
"We've been working towards converting our entire product line to R290 for two years now," Chris Strong, the company's vice-president of sales and marketing, said last week at the NAFEM Show in Orlando, Fla.
"We have a small quantity of R404A systems remaining. In the interest of not scrapping parts, basically we're just getting through our remaining inventory. Pretty much everything else is R290 now," he added.
Staying ahead of regulation
The company's decision to opt for propane was party driven by its corporate social responsibility policy. "That's our mandate for environmental sustainability," Strong said.
Regulatory change played a role too. "There is also the impending DOE mandate in March 2017, and the EPA mandates on phasing down HFCs in 2019 and 2020," he added.
March 27 will mark the entry into force of tougher U.S. Department of Energy (DOE) standards governing the energy consumption of new stand-alone commercial refrigeration equipment. In addition, the U.S. Environmental Protection Agency (EPA) plans to delist HFCs like R134a and R404A in stand-alone display units in 2019 and 2020.
Efficiency gains aid regulatory compliance
All this is driving Minus Forty to opt for natural refrigerants as alternatives to HFCs. "What we discovered in our research and speaking to our component suppliers is that we have a better chance of achieving the DOE initiatives by converting to R290, because it operates as a more efficient refrigerant," Strong said.
"We made the decision about two years ago to do the conversion concurrently, to meet both mandates in 2016. We completed all our initial testing in the fourth quarter of last year and we're in the process right now of phasing out all our R404A and R134a units," he added.
Minus Forty reports growing demand for its equipment in the United States, partly driven by strong sales in the pet food industry, which needs freezers to store frozen raw pet food.
The final Minus Forty product to begin conversion to R404A will be the Duroline freezer vending cart, which is not a continuously running refrigeration system and is thus exempt from DOE efficiency regulations. The EPA mandates will nonetheless still apply.
If it has been plugged in overnight, the cart provides 12-16 hours of freewheeling ice-cream sales or on-location promotions without the need for a power source. The cold is retained in cold plates protected by foam walls.
"We're still working on that one. Our long-term plan is to convert everything to R290," Strong said.