California: A 'beacon of light' on the environment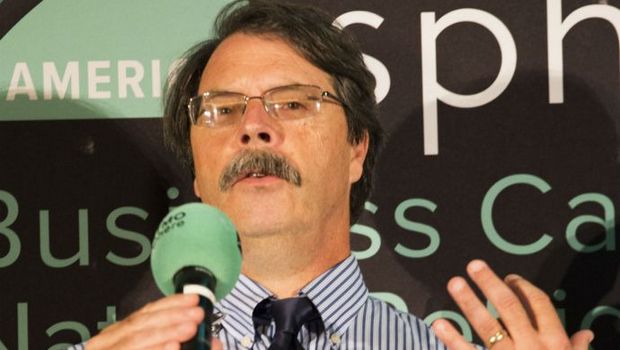 CARB outlines HFC reduction plans at ATMOsphere America in session on regulations and standards, joined by other standards and regulatory organizations.
"These are dark days for environmental protection in this country," said Glenn Gallagher, air pollution specialist with the California Air Resources Board (CARB), at the ATMOsphere America 2017 conference today in San Diego, Calif. "However, California will remain a beacon of light and we will stay the course to protect the environment."
Gallagher spoke at the Regulations and Standards Panel with representatives of the California Energy Commission, the International Electrochemical Commission, Underwriters Laboratories (UL), the International Institute of Ammonia Refrigeration (IIAR) and EOS Climate.
California, which has long set the pace for environmental action nationally, passed California Senate Bill 1383 last year that requires a 40% reduction in annual HFC emissions below 2013 levels by 2030. To achieve that goal, CARB has adopted a Short-Lived Climate Pollutant Strategy this year with four proposed measures to reduce HFCs.
These measures include an incentive program for new low-GWP refrigeration (available now only through utility rebates); and HFC phase-down that will defer to the global phasedown under the Kigali Amendment to the Montreal Protocol; a prohibition on refrigerants over 150 GWP (global warming potential) in new refrigeration equipment and over 750 in new air-conditioning equipment; and a sales ban on refrigerants over 2,500 GWP, to be followed later by a ban on refrigerants over 1,500 GWP.
Gallagher said that an "official notice of HFC rulemaking" would be issued this summer, followed by workshops and public input in 2017 and 2018. "Board approval on new rules would happen in 2018-2019."
At ATMOsphere America on Wednesday, Gallagher will lead an interactive session seeking feedback from attendees on the HFC reduction proposals. "We still have some data gaps that need to be addressed, such as the energy efficiency of low-GWP [systems], the added initial cost of low-GWP equipment, and the feasibility of low-GWP for smaller remote condensing units used in convenience stores," he said. CARB also wants to know whether HFO-HFC blends are really the lowest GWP refrigerants that are feasible for air conditioning.
"We are requesting your feedback and information on cost, energy efficiency, codes and permitting barriers for low-GWP refrigeration and AC," Gallagher said. "ARB will work with all stakeholders to develop common-sense regulations to meet the reduction targets."
Another California environmental official, Peter Strait, energy specialist at the California Energy Commission (CEC), said the CEC is "gathering input for the 2019 [California] energy code [Title 24, part 6]," which applies to residential and non-residential buildings. "Building standards must include "performance-based and prescriptive compliance paths," he said.
Raising propane charge limit
Marek Zgliczynski, chair of IEC SC61C and manager of commercial refrigeration product engineering for Brazilian compressor manufacturer Embraco, discussed progress that IEC SC61C/WG4 working group is making toward raising the charge limit for propane from 150 g to 500 g for light commercial applications. There will be a meeting in Stratford-on-Avon in the U.K. this month to address the latest proposal and release a new draft. "If we reach a consensus at the England meeting, a document will be submitted to the first official vote during the Plenary Meeting of the SC61C in October in Vladivostok, Russia," he said.
The working group will take into consideration the outcomes of an Air Conditioning, Heating and Refrigeration Institute (AHRI) project, currently in progress in the U.S., to assess the severity of negative events due to flammable refrigerants (both A3 and A2Ls).
"I hope 2018 will see the release of a new [propane] charge limit for the commercial segment," said Zgliczynski.
Zgliczynski added that since many of the members of the working group are U.S. manufacturers, he expected the new charge limit to be adopted in the U.S. However, Mark Skierkiewicz, staff engineer, UL, said he expected the UL limit to be "close" to the same charge limit set by the IEC. "We use a science-based approach to what the charge limit would be."
Dave Rule, president of the IIAR, gave a detailed description of the process IIAR uses to develop standards for ANSI approval. He noted that the IIAR-2 ammonia safety standard, updated last year, is a "cornerstone standard" that has recently been adopted by U.S. building codes. In addition, AHSRAE-15 will soon refer to IIAR-2 whenever ammonia is used.
Jeff Cohen, senior vice-president of science and policy for EOS Climate, described the carbon offset programs EOS has developed for refrigerants, including the destruction of CFCs. A brand-new program will offer carbon credits for the "destruction of R22 recovered from equipment that is being decommissioned".
EOS Climate also offers credits for the reclaim and recycling of HFCs, and has launched a program that offers "new revenue opportunities" for the deployment of refrigeration systems like natural refrigerant equipment that prevents emissions of greenhouse gases. "This can offset the capital costs of the equipment," he said.