Cabinet suppliers moving to 100% hydrocarbons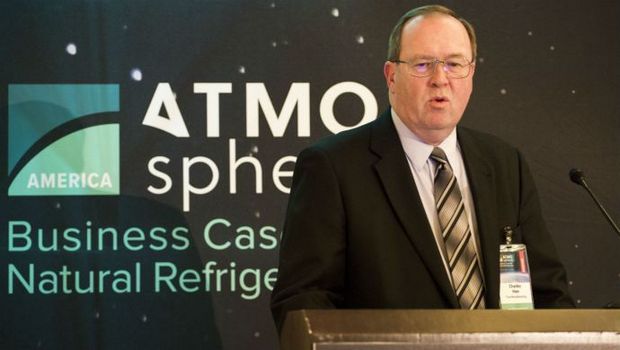 True Manufacturing, Novum and AHT Cooling Systems are adopting 100% hydrocarbons across their product lines.
In a sign of the growing penetration of hydrocarbons into the U.S. food retail sector, True Manufacturing, Novum and AHT Cooling Systems all presented plans to convert their cabinet lines to 100% hydrocarbons at the ATMOsphere America conference in San Diego, Calif. yesterday.
"85% of all the pieces of equipment we manufacture are available in propane today, ready to go. By 2019 we hope to be 100% hydrocarbons," said Charles Hon of True Manufacturing.
Like many companies, True's natural refrigerants journey began in Europe. "We saw the products in Europe that were using propane. We said, 'how can we possibly meet European demand for our product without using propane?'," Hon said.
"And then we said, 'why don't we use it in North America too, where it also meets a lot of our needs?'" he added.
Prices have fallen as production has increased. "We didn't have the components available at first, but we worked through this process to make sure that they were developed for here. We're selling our products at equivalent prices to HFC products, and they're 20-25% more efficient."
Some customers react to this changing environment more slowly than others. "There are customers who are adverse to change – we do understand that. We've discontinued R404A, but we're still making legacy R134a equipment because customers are asking for it. We want to phase it out, and by 2019 we hope to be 100% hydrocarbons," Hon said.
Eoin Lennon of Irish manufacturer Novum reported efficiency gains of up to 40% resulting from the switch to propane, which has a higher heat transfer coefficient than HFCs. Novum is also converting its entire line to R290. "We hope to be at 100% propane cases by 2019," Lennon said.
Over one million
AHT

cabinets in operation worldwide

Austrian manufacturer AHT, meanwhile, made its first supermarket installation with propane in 1997. "We began serial production in 2002. Now we've installed over one million propane cabinets globally," Howell Feig of AHT Cooling Systems USA told ATMO America.

In North America, AHT has installed 15,000 propane cases. The company hopes to install more, but is finding U.S. building codes that impose charge limits of 150g very restrictive.

"We're working with other stakeholders to raise the charge limit to 500g, and to get these standards written into the 2018 building codes," Feig said.

"This would allow for our multiple-circuit cases to be reduced down to one circuit, and therefore become more efficient," he said.
7-Eleven embarking on natural refrigerants journey
As hydrocarbon-based cabinets make greater inroads into the Americas, they are attracting the attention of a wider range of retailers.
"We're definitely interested in using more natural refrigerants in the future," said Francisco Jorge Zavala of 7-Eleven.
7-Eleven currently uses propane in its self-contained display cases but is yet to move to natural refrigerants for other applications.