Bhutan: Her Majesty The Gyaltsuen commemorates the 30th Anniversary of the Montreal Protocol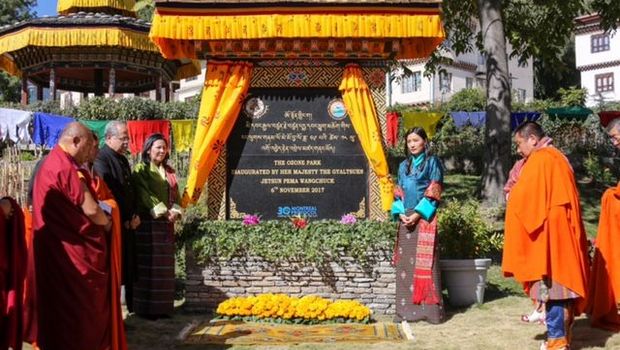 Her Majesty The Gyaltsuen graced a celebration to commemorate the 30th anniversary of the signing of the Montreal Protocol- a United Nations treaty to take steps to protect the ozone layer. Dignitaries and senior officials from the government, UN and private sector also attended the event, which organized by National Environment Commission (NEC).
The Montreal Protocol has been the most successful environment treaty of the United Nations, and the only one to receive universal endorsement- where 197 member states unanimously came together to phasing out chemicals that were damaging the Ozone Layer. As a result, more than 99 percent of nearly 100 ozone-depleting chemicals have been phased out, and this has also significantly contributed to climate change mitigation.
Protecting the Ozone Layer remains an important endeavor, and these efforts have been bolstered by Her Majesty's support as the UNEP Ozone Ambassador. The lesson from the success Protocol is being used in efforts to achieve similar collective action for climate change today.
A Coffee Table book on 25 Years of Partnership for Environment Conservation, documenting the achievements of the last 25 years, was launched during the event. Refrigeration and Air Condition equipment (RAC) was also handed over to Ministry of Labour and Human Resources to assist the RAC curriculum.
In commemoration of the anniversary, the Motithang Park in Thimphu was declared an 'Ozone Park'. With the support from Thimphu Thromde, the park has been remodeled into an ozone advocacy park, providing information on ozone history and countries' initiatives for ozone layer protection ever since the ozone hole was discovered in early 1980s.