End users, policymakers back natrefs at first-ever ATMO Japan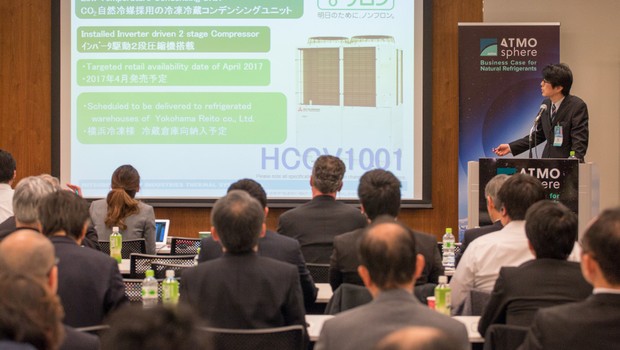 As the global HFC phase-down gathers pace, participants in the first-ever ATMOsphere Japan conference – held yesterday at the Shin-Marunouchi Building Conference Square in Tokyo – heard how policy changes and technology developments are creating new opportunities for natural refrigerants in Japan.
The one-day conference welcomed 188 attendees representing a wide breadth of stakeholders in the natural refrigerant industry: system manufacturers, component suppliers, retailers and consumer goods brands, academics and industry experts, as well as legislative representatives and policymakers.
Among the main themes of the conference were the low-charge ammonia revolution, the status of CO2 refrigeration as a standard solution for food retail, and propane making inroads as a viable refrigerant for light commercial applications in Japan.
Representatives of Japan's Ministry of Economy, Trade and Industry, the Ministry of Environment and shecco CEO Marc Chasserot also discussed the impact of Kigali on Japan's official stance towards natural refrigerants.
Atsuhiro Meno, director of the Fluoride Gases Management Office at the Ministry of Economy, Trade and Industry, remarked: "We feel comfortable that [Japan] will be able to achieve the HFC phase-down targets set by Kigali. However, we still feel that f-gas reduction and control measures must be even tougher."
"We also feel that Japan has an opportunity to take the initiative in terms of technological development. We, as a government, would like to support that effort," Meno said.
Jan Dusek, shecco's business development manager for Asia Pacific, highlighted the major developments in Japan. "There are now three major Japanese companies supplying CO2 condensing units. The question is not if, but when. When will the others join?" Dusek said.
ATMOsphere also gathered more than 20 end users including the convenience store chain Lawson, COOP Aomori, Nestlé Japan, and A-colle.
Lawson is currently the world leader in CO2 transcritical refrigeration systems installed in convenience stores. It aims to reach the landmark of 2,800 installations by February 2018.
"The refrigeration systems we install, going forward, should not have a lasting negative impact on the future. That, I think, is the most important factor to consider," said Shinichirou Uto, responsible for store development at Lawson.
In an international discussion panel, some component and system suppliers from overseas reported mixed results from doing business in Japan. Yet the market is changing fast. Suppliers reported renewed interest in natural refrigerant technologies from customers in Japan.
The different regulatory regimes in place around the world have a major impact on the market for natural refrigerant technologies. "We […] think the deployment of natural refrigerants in Japan will look very different from Europe because of Japan's strict safety regulations. Unless we have deregulation, we cannot become like Europe. Therefore, the only way to move forward in Japan is to target niche markets, one-by-one, from the ground up," said Katsunori Shibata, president of CAREL Japan.
The conference also served as a platform to showcase cutting-edge natural refrigerant technology case studies and to launch new and innovative products, including the Panasonic's 30 HP CO2 cascade system, an all-new CO2 condensing unit from Mitsubishi Heavy Industries, and Mayekawa's CO2/NH3 package for small facilities and supermarkets.
Chasserot closed the conference by looking ahead to upcoming ATMOspheres in Sydney, San Diego, Bangkok and Berlin this year.