Ammonia refrigeration: A staple in the beer industry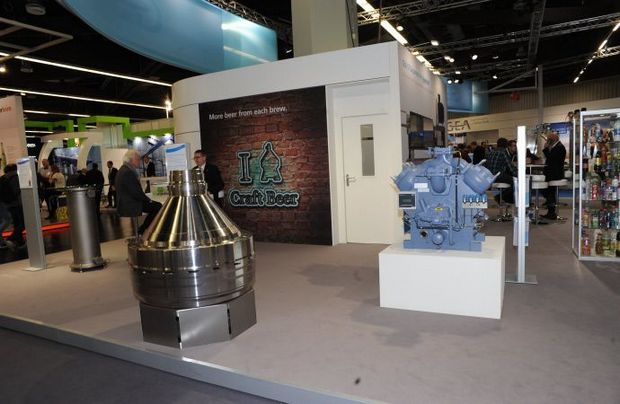 "The use of natural refrigerants [like ammonia] is probably more prevalent in breweries than in most industrial or commercial refrigeration plants," said Mark Bulmer (global segment manager (cooling), GF Piping Systems) at BrauBeviale an international beverage trade fair taking place in Nuremberg, Germany on 8-10 November.
Ever since Carl von Linde, who is credited with creating the first refrigeration machine, presented at a brewery conference in Vienna in 1870 before going on to invent the first ammonia compressor in 1876, brewing has been the business of ammonia.
"There is just so much experience in ammonia, and with low-charge ammonia it can enter new areas of industry," Bulmer explained.
In breweries refrigeration is crucial, especially in the summer months. The yeast used in the brewing process is a sensitive ingredient. If exposed to warm temperatures, it can make the beer taste unpleasant.
"We have installed ammonia refrigeration for most of the breweries in Bavaria [including Paulaner, Lowenbrau and Augustiner]," said Robert Kain of Haas Anlagenbau, an installer of ammonia refrigeration systems.
Haas Anglenbau uses a mixture of ammonia and dimethyl ether called R723 as a refrigerant. "It is more efficient for industrial purposes," Kain said. They also work with NH3 heat pumps and build ammonia ice-skating rinks, mainly in Bavaria.
New trends
Bulmer highlighted a US trend towards using ammonia secondary loop systems in supermarkets. However, this is yet to translate to the European market.
"This is about to change. You will start seeing more low-charge ammonia smaller installations for small distribution centres and supermarkets. Ammonia, unlike CO2, has a lot of knowledge to draw on," Bulmer says.
There is also a growing need for ever larger refrigeration systems. "We are seeing a trend towards bigger capacity systems," told Matthias Wiegand of GEA Germany.
"GEA Blue chillers are compact [and] have low operation and maintenance costs with an excellent ESEER (European seasonal energy efficiency ratio) of up to 9.4. These low charge ammonia chillers can mitigate the risks to safety and increase efficiency," Wiegand said.