Expert: Low-charge ammonia to proliferate worldwide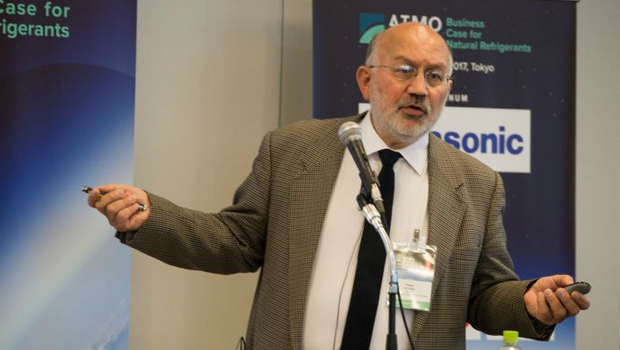 Low-charge ammonia systems are set to become increasingly popular worldwide, Professor Pega Hrnjak – a leading authority on natural refrigerants – told participants in yesterday's ATMOsphere Japan conference.
As global energy markets become increasingly decentralised, Professor Pega Hrnjak – one of the world's leading authorities on HVAC&R – told participants in yesterday's ATMOsphere Japan conference that low-charge ammonia systems are likely to become even more popular in the years to come.
"The entire industry is rethinking conventional knowledge for industrial refrigeration and ammonia," said Professor Hrnjak, outlining the trend towards smaller, safer and more affordable units.
Born in Belgrade, Yugoslavia, Pega is a world-renowned researcher, teacher and expert in the field of refrigeration. He started his activities in the US during the 1980s, and in 1993 joined the faculty of the University of Illinois, Urbana, where he is a professor in the Department of Mechanical Science and Engineering.
He is also director of the University of Illinois's Air Conditioning and Refrigeration Center, an NSF-founded, industry-university cooperative research center, and is president of Creative Thermal Solutions (CTS), his private research-and-development company, also based in Urbana.
Trend towards smaller, more affordable systems
By decentralisation, Professor Hrnjak means the trend towards adopting smaller systems with reduced charges, the mass production of units at lower cost, and the growing popularity of self-contained and pre-packaged units.
To demonstrate, he referenced the increasing popularity of rooftop ammonia units in the United States, which have lower charges than large indoor units. "Rooftop ammonia units in the United States are getting more and more popular, and are getting more and more attention," he said.
"Industrial refrigeration is typically run by contractors. Some companies in the US have realised that there is an opportunity to take part of the market and start mass-producing certain types of unit," he explained.
Professor Hrnjak has been designing, developing and testing refrigeration systems for years. "In our lab, we have made 1 kW systems with less than 40g of charge. It is very possible to do a lot of refrigeration at a very low charge."
Let's talk about charge limits
With technological innovation proceeding at an impressive rate, Hrnjak argued that it is high time to define exactly how to apply the terms "conventional charge," "low charge" and "ultra low charge" to ammonia-based refrigeration systems.
"Once that is set, we can go and fight with regulators for more common low-charge ammonia use," he said.
Hrnjak argued that ammonia can and should be treated equally as propane, opening up further applications besides the industrial sector. He expressed his ultimate belief that, with simplified systems at reduced cost, ammonia can beat all other refrigerants in terms of efficiency.
"I have worked all my life to make systems more efficient. Eventually costs will decrease for new technology. Give newcomers who have something to show a fair chance," he urged.