Ammonia heat pumps twice shortlisted for awards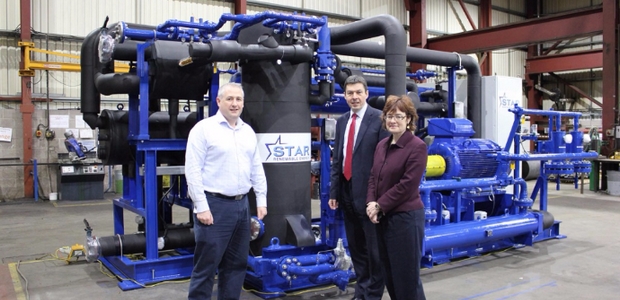 Two ammonia heat pumps from Star Renewable Energy have been shortlisted for awards in the UK.
Star Renewable Energy, part of UK-based Star Refrigeration, has been shortlisted to receive two ACR and Heat Pump Awards at a ceremony on 26 January 2017. The shortlisted heat pumps, based on ammonia, are used in district heating.
Star's Neatpump air source heat pump and its water source heat pump have both been listed in the heat pump product category as 2017 finalists for HVAC&R awards organised by ACR Magazine.
Dave Pearson, director of Star Renewable Energy, said, "we are absolutely thrilled to be nominated for the awards, and proud that our sustainable Neatpumps are acknowledged by the industry".
The Neatpumps, as Star calls them, are available in capacities of between 350kW and 8,000kW. They can be used to cool both water and secondary fluids, including glycol.
The heat pumps have been installed in a number of locations in the UK to provide cheap heating for homes.
The air source heat pump has been used to heat 350 social homes in Hillpark Drive, Glasgow, Scotland. The project was designed in conjunction with Glasgow Housing Association to alleviate fuel poverty for seven existing high-rise blocks, and is one of first community heat pumps installed in the UK.
The second heat pump has been used to supply heat and hot water to one of the UK's largest district heating schemes, in Cranbrook, Exeter, England. In combination with solar thermal panels, Star's heat pump increases the water temperature to 80 degrees Celsius overnight, when off-peak electricity is cheap, to allow the system to meet peak demand for energy in the morning.
The Cranbrook scheme, piloted by E.ON Community Centre, is serving 3,500 new homes as well as 1.4 million square feet of industrial space.
"We hope this accolade will increase awareness of the renewable energy options available for residential and commercial projects," Pearson said.
"But mostly, I would like to thank our partners: E.ON Community Centre, Glasgow Housing Association (GHA), WSP Parsons Brinckerhoff, and the residents of Hillpark Drive who all share the same vision of a fuel poverty- and carbon-free heating future," he said.
The winners of the awards will be announced on 26 January 2017 at Birmingham Town Hall, Birmingham in the UK.