AHR Expo sessions to tackle hydrocarbons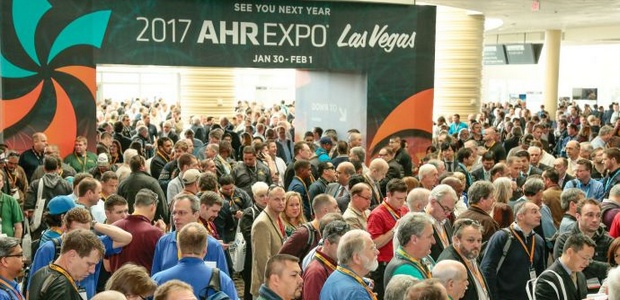 Attendees of 2017 AHR Expo, to be held January 30 to February 1 at the Las Vegas Convention Center, will have access to more than 75 seminars, technical sessions and certifications, including many related to natural refrigerant technologies.
The AHR Expo also hosts close to 2,000 exhibitors, many with natural refrigerant products and services, and attracts 60,000 HVAC&R industry professionals. The event is co-sponsored by ASHRAE and AHRI, and is held concurrently with ASHRAE's Winter Conference.
"We pride ourselves on offering these ancillary education, training and certification opportunities as a way to fully maximize the benefit attendees gain from being a part of AHR Expo," said Clay Stevens, president of International Exposition Company, which manages the show.
Attendees will also have the opportunity to participate 56 free seminars on a range of topics presented by associations and other HVACR industry groups. In addition, numerous courses, continuing educational sessions and opportunities for testing will be offered for a nominal fee, both prior to and during the 2017 AHR Expo in Las Vegas.
Those attending the 2017 AHR Expo in Vegas can additionally sit for exams from several HVACR industry organizations, including the North American Technician Excellence (NATE).
Here is a list of educational sessions related to natural refrigerant technologies:
Hydrocarbon Refrigerant Safety. Speaker: Arthur Miller, director, Region 2, Refrigeration Service Engineers Society (

RSES

); Monday, 30 Jan., 9 am-noon, N232.
Tecumseh's

VTC

/VAE Series Variable Speed Compressors Deliver Significant Energy Efficiency Gains, Tuesday, 31 Jan., 10:45-11:05 am, Theatre C.
The Impact of Flammable Refrigerants on Your Facility. Speaker: Intertek representative; Tuesday, 31 Jan., 2:45-3:05 pm, Theatre C.
R290a Inverter-Type Refrigeration Unit. Speaker: Dean Rafiee, director of business development, Elco; Wednesday, 1 Feb.; 10:15-10:35 am, Theatre B.
A complete list of 2017 AHR Expo educational opportunities can be found at http://ahrexpo.com/education-overview/.