Aermec unveils R1234ze chillers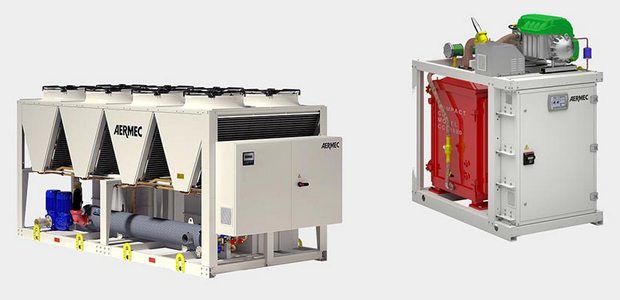 Aermec is introducing its new range of air-cooled and water-cooled R1234ze chillers at this week's Interclima exhibition in Paris.
As the industry moves towards more environmentally friendly gases, Aermec is the latest manufacturer to offer chillers designed for use with the HFO refrigerant R1234ze(E), which boasts a GWP of less than 1.
Aermec's NSG is a dual-circuit or triple-circuit air-cooled chiller with cooling capacities range from 228kW to 1578kW. It features axial fans to ensure the quietest possible operation, twin-screw compressors, a shell and tube exchanger and V-block micro-channel coils.
The NSG can also produce domestic hot water if it is fitted with a desuperheater or total recovery system. Four versions are offered: standard, low noise, high efficiency and extra high efficiency.
The water-cooled chiller designed for R1234ze is the WMG. This modular chiller has a single internal circuit and employs Turbocor high efficiency, two-stage, magnetic levitation centrifugal compressors. Each module is capable of 280kW or 312kW depending on the compressor used.
Flooded heat exchangers reduce the refrigerant load by as much as 50%.
It is available in the standard or silenced version with soundproof cowling, and high or very high efficiency models.