Advansor launches CO2 mini-booster for small stores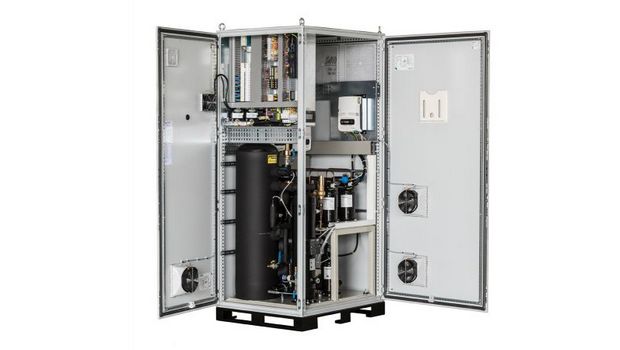 Danish system supplier Advansor launched a new CO2 mini-booster refrigeration system at EuroShop 2017 this week.
Seeking to tap into the growing European trend towards smaller food retail stores, Danish system supplier Advansor has launched a new CO2 refrigeration system – the compSUPER XXS mini-booster – for convenience store formats.
"This is a new development for us. It's a very early stage. We only shipped the first units out of our factory this week," Advansor Managing Director Kim G. Christensen said at EuroShop 2017.
Advansor began as a supplier of transcritical CO2 racks for supermarkets. It subsequently launched the ValuePack line for smaller store formats.
The new compSUPER XXS transcritical CO2 unit has a cooling capacity of 30 kW at -10°C and a freezing capacity of 4-5 kW at -30°C.
"The mini-booster fulfils a gap in our product portfolio, and it's very important to have closed it. It's a collaboration between Advansor, CAREL and Toshiba," Christensen said.
Collaboration between Advansor,
CAREL

and Toshiba

The system sees Advansor use rotary compressors for the first time. The company normally uses reciprocating compressors. "The intention is to use smaller compressors. It's a multiple compressor system using a brushless DC compressor from Toshiba, allowing us to deliver the capacity that stores need," Christensen said.

The compressors are managed by an inverter and controls provided by Italian multinational CAREL. "The system is very flexible. We can use up to six compressors," Christensen said.

The unit can be housed outside or indoors, according to the retailer's needs.