Adiabatic coolers storm U.S. market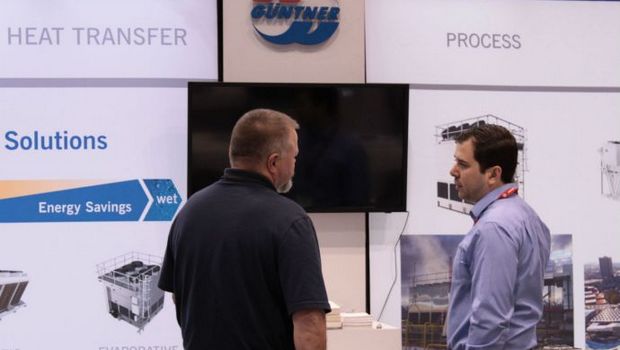 Over 1,000 have been installed in the U.S., of which around 250 are for CO2, according to a Güntner executive.
Adiabatic coolers are proving a big hit with U.S. customers, said Jerry Lozano, sales and applications engineer for German manufacturer Güntner, at the AHR Expo in Chicago.
"One thousand [from all manufacturers] have been sold so far [in the U.S.], of which 250 are probably CO2," Lozano said at the event, held January 22-24. The component supplier, which manufactures adiabatic condensers, estimates that the main source of this growth in CO2 adiabatic coolers comes from innovative end users like the retailer ALDI US.
Other manufacturers of adiabatic condensers include Baltimore Aircoil and Evapco.
Lozano said that adiabatic technology is much more efficient than traditional evaporative coolers.
He believes the sales of its CO2 products will further increase as the move towards CO2 transcritical and ammonia/CO2 cascade systems in larger applications picks up in North America.
"Carnot is making inroads with this technology […] and other companies who are traditionally commercial and are now moving into industrial like Zero Zone and Hillphoenix," he noted.
Ammonia is still being use for the majority of industrial applications. "You can see some resistance from ammonia players" who are pushing low-charge ammonia as a solution instead, Lozano said. But that technology is not really ready for very large applications, he noted.