220,000 technicians to receive low-GWP refrigerant training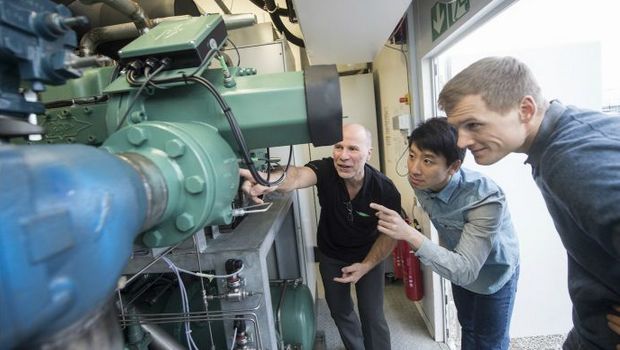 REAL Alternatives, an online training programme, will be holding new 'train the trainer' events and study days across Europe thanks to new funding from the European Commission.
REAL Alternatives, originally an online training programme on low-GWP refrigerants, will now be holding 'train the trainer' events and study days along with other training across Europe.
The expansion of this project means that REAL Alternatives can potentially be delivered to nearly 220,000 technicians across Europe by a network of nationally accredited trainers by the end of the three-year project.
The newly received funding under the LIFE Programme – the European Commission's funding instrument for environment and climate action – is set to promote best practice among technicians regarding low-GWP alternatives including natural refrigerants carbon dioxide, hydrocarbons and ammonia.
NatRef training on the up
The REAL Alternatives project has already shown installers how to use these refrigerants safely, efficiently, reliably and cost-effectively.
Programmes like this have increased industry confidence that natural refrigerants training will no longer represent a barrier to uptake.
shecco's recently published GUIDE to Natural Refrigerants Training in Europe 2017 asked industry experts about their expectations for future supply and demand.
A majority of the 150 natural refrigerant training providers surveyed expressed great optimism related to the expected growth in the number of people trained on natural refrigerants per year. Four in five of HVAC&R industry experts expect to see this number increase in the next one to two years. Only one tenth of natural refrigerant training providers said that the numbers would remain the same, with just 5% of respondents saying that it would decrease slightly.
Moreover, more than 65 training receivers shared their expectations about future training. The majority showed great optimism regarding future developments, with over 70% saying they expected more people from their organisations to take up training on natural refrigerants in the next 1-2 years. Slightly less than one fourth of respondents noted that the number of trained people would remain the same.
More
REAL

Alternatives initiatives

The new funding from the EU REAL Alternative's project looks set to increase confidence that training is a non-issue.

It will update existing content, develop new materials on applying safety standards, and introduce a range of practical exercises and assessments.

A high-profile awareness campaign will be launched soon to get people interested in the programme and increase confidence in the application of low-GWP refrigerants.

Institutes, training organisations and trade bodies across thirteen countries are also involved in the project.

For the three years, thirteen working languages and fifteen partner organisations based in the UK, France, Germany, Italy, Belgium, Poland, Czech Republic, Slovakia, Spain, Romania, Denmark, Portugal, and Turkey will work on increasing awareness, experience and knowledge levels in the refrigeration industry.