BRA updates its replacement refrigerant report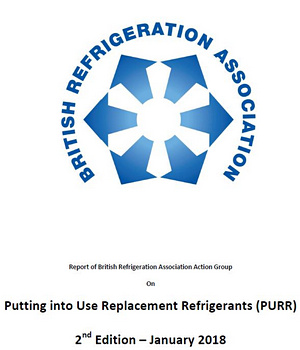 The updated edition was announced in January 2018. The first PURR (Putting into Use Replacement Refrigerants) report was produced in 2015 by members of BRAbrapurr to help the industry meet some of the key implications and requirements of the EU F Gas regulation that came into force on 1st January 2015; in particular the urgent need to move away from high GWP refrigerants, such as R404A.
The second edition of the PURR report has been updated to reflect current market conditions, and contains several new features, including:
Data on new A2L (low flammability) alternatives for R404A
Data on R410A alternatives
General information on the use of A2L refrigerants
BRA President John Smith says: "When we released the first PURR report two years ago it was welcomed by our members and the wider market as advice was sought in the wake of the F Gas Regulation announcement. The phase down is now well under way, and with less than two years left before the use and service bans on R404A take effect, we want to continue to give up to date guidance to all stakeholders involved in the commercial refrigeration market.
"This second edition of the PURR report provides greater clarity on alternative refrigerants, which should hopefully assist in ensuring a smooth transition for designers, manufacturers, installers, commissioners and end users to comply with the new enforcements."

Here You can to download the report