10-14 October 2016 - Summary of the twenty-eighth Meeting of the Parties to the Montreal Protocol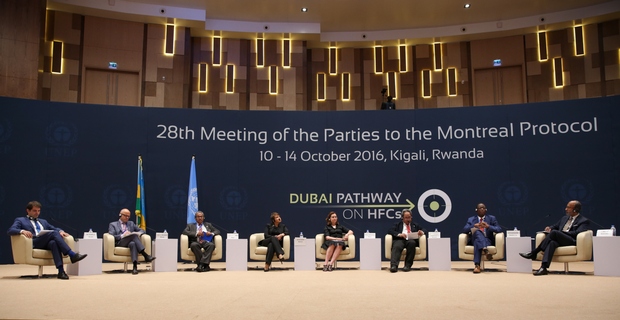 The twenty-eighth Meeting of the Parties to the Montreal Protocol on Substances that Deplete the Ozone Layer met from 10-14 October 2016, in Kigali, Rwanda. Over 500 participants from governments, UN agencies, intergovernmental and non-governmental organizations, academia, and industry attended the meeting.
MOP 28's primary decision was to adopt the Kigali Amendment, which amended the Protocol to include hydrofluorocarbons (HFCs) as part of its ambit. MOP 28 also adopted a number of substantive and procedural decisions. Substantive decisions included: essential-use exemptions (EUEs) and critical-use exemptions (CUEs); and the Terms of Reference (TOR) for the study on the 2018-2020 replenishment of the Multilateral Fund (MLF). Procedural decisions adopted include: budget; organizational issues related to the Technology and Economic Assessment Panel; and membership of Montreal Protocol bodies.
MOP 28 immediately followed a one-day resumed session of the 38th Open-ended Working Group (OEWG 38), where parties agreed to continue work in a contact group on the feasibility and ways of managing hydrofluorocarbons (HFC Management Contact Group) and established a Legal Drafting Group to formulate legal text on an amendment for the MOP's consideration.
During the week, the main agenda item was the Dubai pathway on HFCs, under which parties were mandated to continue negotiations with a view to agreeing on an amendment in 2016. Over the course of the week, many heated discussions took place and parties "went to the brink and back" before the Kigali Amendment was agreed to at 6:54 am on Saturday morning.
Here You can read the full report
Further resources