EC gets serious on illegal F-gas trade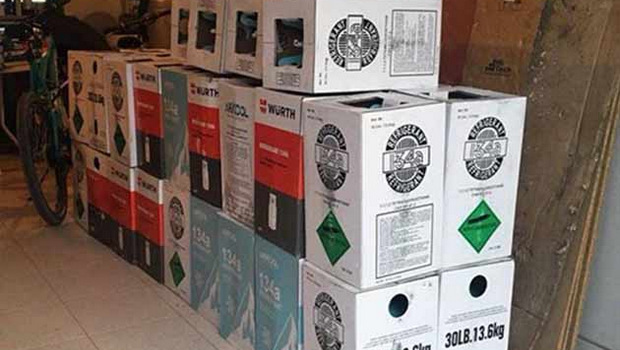 The European Commission says it is taking the illegal trade in refrigerants "extremely seriously", is aware that it could undermine the phase-down, but admits it is uncertain at this time of the amounts involved.
The subject of illegal imports of refrigerants was a topic of major attention at the recent EPEE F-gas industry roundtable in Brussels. A number of individuals and groups in attendance expressed concerns about the development in the illegal trade.
While aware of the recently reported illegal trade involving long-banned non-refillable containers and internet sales, the Commission insists that such activities involve small quantities of gas and do not have the potential to have a disruptive effect on the quota system. Where the Commission has become aware of concrete activities, these have been passed on to the member states for follow-up, it insists.
Fluorocarbons group the EFCTC has maintained that the illegal trade could represent 20 to 25MT CO2e, but DG Clima said that this could not be substantiated at this time.
The Commission insists it is being vigilant and taking the issue of possible illegal trade extremely seriously. It says it is cooperating with industry and member states in a number of different ways to enforce the F-gas regulation and tackle any illegal activities including control of trade at the borders.
A workshop was organised by the Commission in September for both custom and F-gas experts from member states in order to brief them on possible customs controls. These include dedicated custom codes for bulk gas and equipment, and checks on the registrations of companies for HFC import and export and available quota and authorisation amounts, which are visible to customs officials once their custom office is registered.
The Commission says it is currently building an IT system, which will allow for real-time debiting of quotas and authorisations. This would help companies to keep track of their remaining amounts, and allow for the tracking of all related shipments coming in, in the Commission's database. This IT system is expected to become operational in 2020.
Several member states are said to have already taken "extensive actions" of tracking shipments, requiring written permission for import, as well as databases on all relevant imports at national level.
The Commission is currently exploring how data in the surveillance database could be used to support national authorities in following up on possible perpetrators.