Cooling-as-a-service ammonia installation at South African dairy factory Exceeds efficiency expectations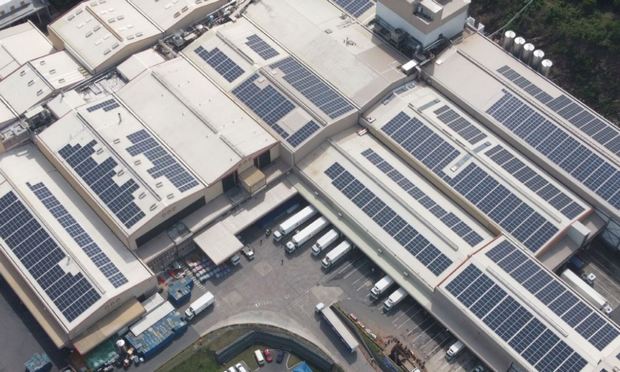 Energy Partners Refrigeration (EPR), a South African cooling-as-a-service (CaaS) implementer, installed a 10MW (2,843TR) two-stage ammonia/NH3 (R717) system at South Africa's largest dairy company, Clover, in 2022, and the performance has so far exceeded forecasts.
EPR has measured an efficiency improvement of nearly 40% compared to the previous operation.
Partners in the project also included BASE and the Clean Cooling Collaborative.
The project was engineered to be installed without any break in production, limiting downtime of the refrigeration system to a few weekends to manage the changeover. Transferring the refrigeration load from the old system to the new was a great engineering challenge that required carefully coordinated steps with the factory.
In January 2022, the delivery of the first phase of the project was completed, including a new two-stage ammonia refrigeration system with modern control technology. It also features limited ice storage plus waste heat recovery for hot water. Energy Partners also installed a solar photovoltaic (PV) system, significantly reducing the operations cost.
"Environmentally, this project is exceeding all expectations," said Dawie Kriel, Head of Business Development, Energy Partners Refrigeration. Thanks to the solar installation, which provides 16% of all electricity used, 2,100 metric tons of greenhouse gases (GHG) are saved every year. Efficiency gains and the heat recovery add a further 4,470 metric tons per year.
Designed with expansion in mind
Initially delivering 9,500kW (2,701TR) of cooling capacity, the system was expected to provide the full 10,000kW (2,843TR) once phase two of the project was completed in June, which includes butter freezing and an ice storage system, the. The plant has been designed to be expanded to 15,000kW (4,265TR) in the future. The second stage of implementation was also expected to further upgrade the solar assistance, bringing the peak generation to 1,900kWp (kilowatts peak) and the total investment value to €8.8 million (US$9.1 million).